The Dirt:
Chronic inflammation is believed to be the underlying cause of many long-term illnesses such as cancer, heart disease, autoimmune diseases and even brain diseases, including Alzheimer's and dementia. Are you inflamed?
Inflammation is often the starting point of many diseases. Is it the result of an unhealthy diet? What is the effect of inflammation on your body?
Inflammation is your body's protective response to injury, disease or irritation of the tissues
Inflammation is your body's mechanism to protect itself and heal damaged cells or tissue. This damage can be caused by either a wound, toxic substances or pathogens which may be in the form of sickness, excessive alcohol, chemicals, stress, unhealthy diet or lack of sleep. When your cells are in distress, they call out for help, and your immune system is full of front line soldiers who are programmed to attack and dispose of them. Inflammation is classified as either acute or chronic.
Acute vs. Chronic Inflammation
Acute inflammation occurs in the short-term. It is responsible for getting rid of an infection, helping clean a wound, and repairing your tissue. Examples include cutting yourself while shaving or spraining your ankle. The inflammation that occurs is a healthy reaction to repair the injured tissue. An army of white blood cells are the first responders that ingest and dispose of the damaged cells, pathogens, or irritants that may have entered your body.
On average, as long as you don't re-injure yourself, an acute inflammatory response should only last a few days or weeks. Your body knows to trigger acute inflammation in order to get rid of things that are harming you.
If you don't take care of that wound, or if your body is inundated with a constant invasion of pathogens or toxins, your cells continually call for help from your immune system, and your body is on high alert at all times. This prolonged "state of emergency" can cause lasting damage and is called chronic inflammation.
Chronic inflammation can last from several months to several years. The onset of chronic inflammation can be delayed, and signs of chronic inflammation are difficult to detect. It can also be incredibly difficult to identify the part of your body that becomes inflamed when the problem is chronic.

If our body is using energy to unnecessarily fight a perceived "invasion", then it has less energy for normal functions. More importantly, with less energy available, our bodies cannot produce anti-inflammatory compounds such as glutathione, one of our bodies' major antioxidant. In addition, adenosine triphosphate (ATP)— the energy molecule used by our cells is being used to fight a threat that isn't real. At the end of the day, we have less energy and lower levels of antioxidants creating vulnerability for potentially diseased states.
How do you know if you are chronically inflamed?
You may not always be able to visually see the effects of inflammation, but there are signs that indicate its presence. These include fatigue, weight gain, skin outbreaks, gastrointestinal issues, and even depression or anxiety.
The best way to fight inflammation is with a healthy diet, regular exercise, and sleep
You can avoid certain foods that trigger inflammation. These include sugars and overly-processed foods. Additionally, smoking and excessive alcohol consumption should be eliminated.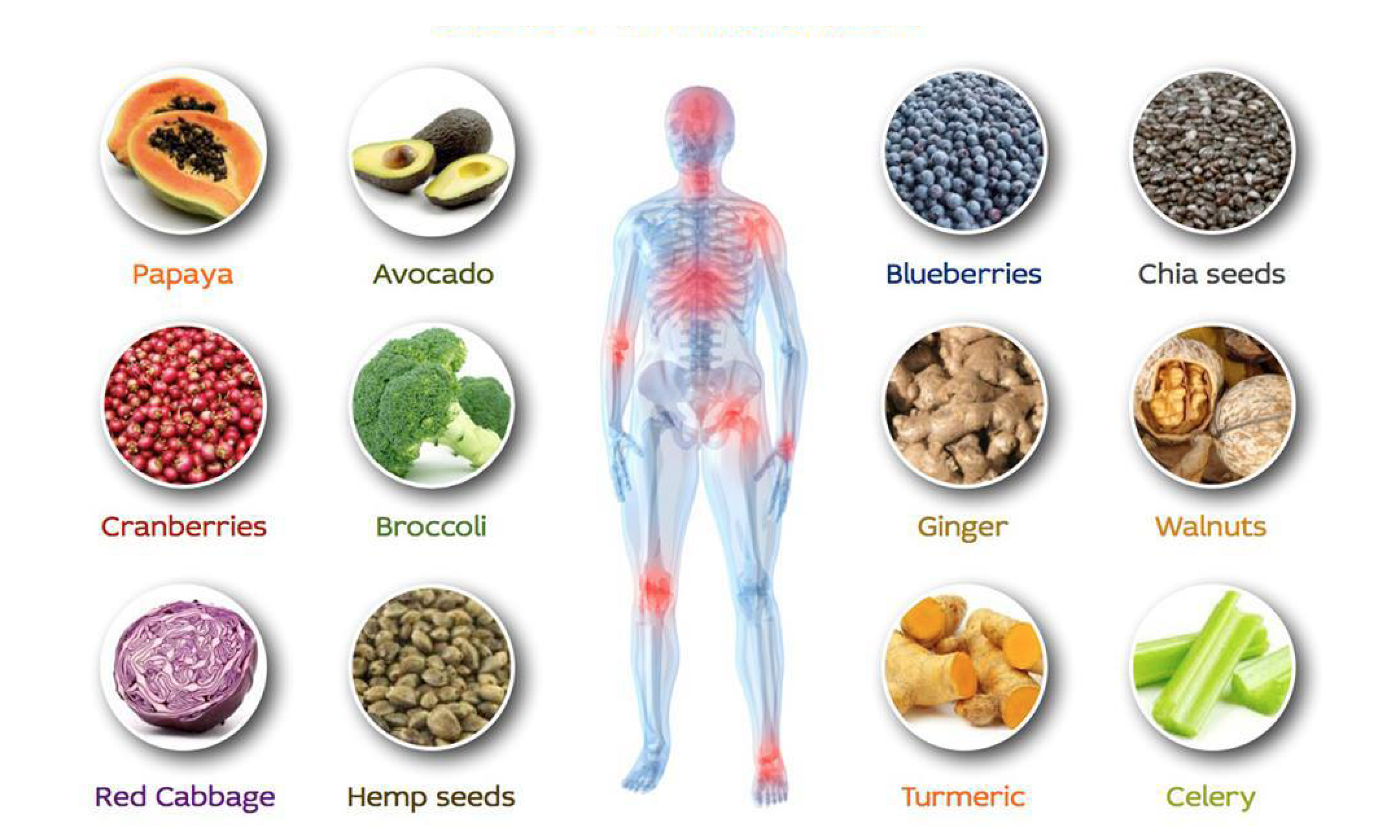 A healthy diet helps fight inflammation
Foods to eat include plenty of colorful vegetables and greens, and foods containing healthy fatty acids, such as those found in nuts and avocados. Additionally, drink plenty of clean water so your cells stay hydrated and can perform at their optimal level!
Regular exercise is also an important part of fighting inflammation. A recent study performed by Mark Hamer, PhD, an epidemiologist at the University College London, examined the long-term effects of exercise with regard to inflammation. The study lasted for 10 years and included 4,000 middle-aged men and women.
Ultimately, Dr. Hamer found that subjects who completed approximately 2.5 hours of "moderate" exercise per week – or at least 30 minutes a day – reduced their inflammation markers by a minimum of 12%. Additionally, some study participants began exercising midway through the study period and were able to lower their inflammation levels as well— meaning it is never too late for the benefit of working out!
Get enough sleep and reduce stress. Poor sleep and stress trigger inflammation. According to a study performed by Emory University and presented at the 2010 American Heart Association Scientific Sessions, getting less than six hours of sleep per night is associated with higher levels of inflammation. This is also linked with an increased risk of heart attack and stroke.
Reducing stress and getting enough sleep helps fight inflammation
In addition to lack of sleep, excessive levels of long-term stress can negatively affect your gut and compromise the production of enzymes that aid in the digestive process. For your best performance, it is optimal to get eight hours of sleep each night, with at least five of those hours being continuous or uninterrupted.
The Bottom Line:
Research suggests that chronic inflammation contributes to the development of many diseases and various types of cancer. Taking care of acute inflammatory responses, maintaining a healthy diet, getting enough sleep, and staying active are the best ways to prevent chronic inflammation.