The Dirt:
Agave nectar is a popular sweetener that many people use to replace sugar. What is agave, how is it processed, and is it better for you than table sugar?
We can't sugarcoat it— consuming excess sugar is simply not good for you! The average American eats between 80-110 grams of added sugar a day. To put that into perspective, the recommended daily amount is 24 grams of sugar for women and 38 grams of sugar for men per day.
Mintel has reported that 84% of adults have decided to limit their sugar intake. At D2D, we applaud this effort and recognize that it is no small feat! In response to the movement away from traditional sugar, many sugar tricks have made their way onto the health food market. But (for the most part) sugar is sugar is sugar— and almost all variations have the same effect on your body….
Enter: Agave
Pictured above: Agave americana. (Source: Plant Rescue)
Grown in Mexico and the U.S. Southwest, the agave plant resembles a cactus but is actually a member of the asparagus family. There are many different cultivars, and the syrup is produced from only a few of these. When in flower, the agave plant can reach a height of 25ft!
Marketing claims and excellent branding have made it easy to believe that agave used as a sugar source is "better for you." In fact, according to Mintel Market Research, consumers rank Agave the fourth healthiest in the long list of sweeteners.
The use of this "naturally occurring sweetener" has grown exponentially in recent years. More specifically, from June 2012-2013 33% of all food and drink product launches contained agave.
Agave nectar producers claim that this syrup is healthier because it provides fewer calories per serving and has a low glycemic index, which means it won't raise your blood sugar levels as much as other sugar and sweeteners.
However, there are some issues with these claims. The agave syrup that is sold commercially is highly processed in order for it to have a longer shelf life. While it is true that the fructans in naturally occurring agave nectar are a healthy source of sugar, when these fructans are processed (at high heat) they are turned into fructose and the healthy qualities of this nectar are eliminated.

Video: Authority Nutrition
Love Tequila? Look for 100% agave on the label!
Tequila is made by extracting and fermenting the juice from the core of the agave plant, which is high in sugar. Unlike agave syrup, which is processed, tequila is a live food and the natural sugars present in the plant are used as fuel during the fermentation process. That is not to say all tequila is sugar free! U.S. regulations allow tequila companies to add sugar to their final product, whereas Mexican tequila distributors are prevented from making tequila with anything other than the blue weber agave plant. When purchasing tequila, look for 100% agave on the label!
Let's have a quick recap on fructose & glucose
In our previous post on sugar, we discussed the importance of fructose and glucose. Table sugar is composed of a combination of both glucose and fructose.
Glucose will give your body an energy boost. Unlike fructose, glucose is very important. It fuels your brain and muscles and helps convert food into nutrients. Fructose, on the other hand, truly serves no purpose in your body. It cannot be used as energy and can only be processed by your liver. Once it reaches your liver, it is converted into fat and sent to your body's fat cells to be burned, or eliminated.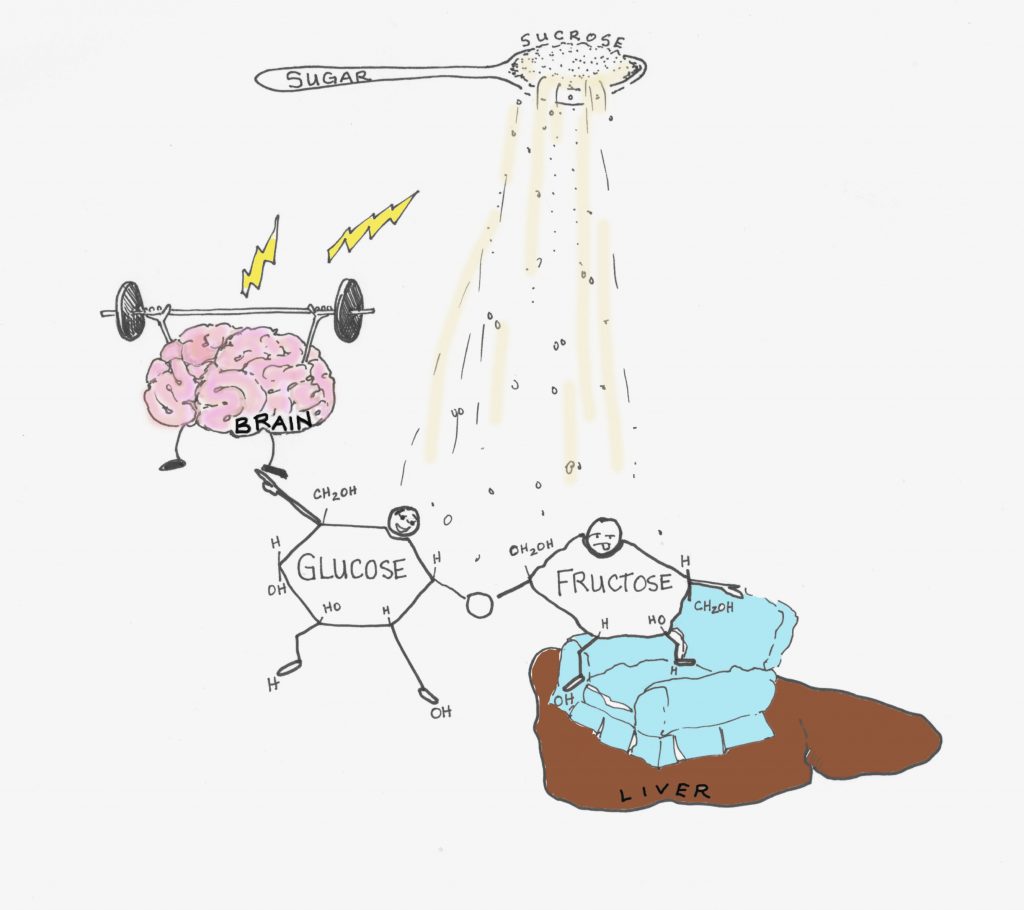 Fructose build up in your liver is toxic and can have the same affect on your liver as excess alcohol build up!
Most sugars have a fairly equal ratio of glucose to fructose. Table sugar, for example, is 50% glucose and 50% fructose, a 1:1 ratio. This can vary roughly 5% depending on the sugar source— however, it is safe to say that almost all sugar products will be processed by your body relatively the same.
Agave is a 2:1 ratio of fructose to glucose.
Even high fructose corn syrup contains less fructose than agave! Like most sugars, HFCS has a 1:1 ratio of fructose to glucose. HFCS is roughly 55% fructose. Agave syrup can contain between 70-97% fructose. It is because of this increased fructose amount that agave is technically lower on the glycemic index than other traditional sugars. But that means at least 70% of the agave you are consuming is going straight to your liver!
"In theory, it's high in fructose and low on the
glycemic index
, making it a better option than refined sugar. But there's not a lot of research to back that up, and one of the studies was done in lab animals, not people. The American Diabetes Association lists agave as a sweetener to limit, along with regular table sugar, brown sugar, honey, maple syrup, and all other sugars." (
Web MD
)
Additionally, unlike what many agave health claims report, agave typically has more calories per serving than other sweetening products. For example, 1 tablespoon of white sugar has 48 calories, whereas a tablespoon of agave contains roughly 60 calories. Agave producers claim that because the syrup is so sweet, consumers will inevitably use less than traditional sweeteners and save calories that way.
The Bottom Line:
Don't fall for the hype! Just because agave is frequently used at your local, organic juice shop, doesn't mean its healthier than sugar. Beware of agave marketing claims. Like all sugar, agave consumption should be very limited.