The Dirt:
Coffee speaks a global language. This potent little bean wakes up millions of people every morning. But are there any health risks associated with your morning cup of caffeinated joe?
Does your morning routine include coffee?
At D2D, ours definitely does! Besides its delicious flavor, consumers rely on their daily coffee fix for its caffeine. When you have 3+ cups of coffee a day you probably think you're becoming a caffeine-aholic. But that's not necessarily true— and you are not alone! The average American drinks 3.1 cups of coffee a day. We were curious about how your body processes coffee and whether or not there are any associated health implications from our morning cup of joe.
Quite surprisingly, the United States ranks 26th in global annual coffee consumption. Finland leads the pack at #1, with their average consumer drinking 6+ cups a day! Since the world shares a love of coffee, it has been studied globally over the years. While there is still a lot we don't know about how your body handles coffee, the majority of research that does exist actually demonstrates the health benefits associated with drinking it. However, there are few negative claims as well…
Acrylamide in Coffee
In February 2018, it was reported that California lawmakers are lobbying for new labeling of coffee with respect to Proposition 65. Prop 65 includes a list of all synthetic and natural chemicals that are claimed to cause cancer, birth defects, or reproductive issues. This new bill is calling for coffee companies and even coffee shops to include a cancer warning on their coffee packaging due to the presence of acrylamide in coffee. Acrylamide is a natural chemical that is created during the coffee roasting process. While it is true that acrylamide is currently on the Prop 65 list of potentially cancerous chemicals, there is more to the story.
Coffee? Cancer? What?
The research on acrylamide is extremely limited and only tested in rat subjects. A 2014 review of the existing scientific research on acrylamide, entitled Dietary Acrylamide and Human Cancer: A Systematic Review of Literature,  determined "a majority of the studies reported no statistically significant association between dietary acrylamide intake and various cancers."  Furthermore, as we learned in our discussion of toxicants, our bodies are equipped to process and expel any compounds such as acrylamide that aren't beneficial to our health.
Your genetics play a role in how the liver metabolizes caffeine
Your genetics, specifically a gene called CYP1A2, determines how quickly your liver metabolizes the caffeine in coffee. So, when you are enjoying a cup of coffee, your CYP1A2 gene will instruct your liver to either metabolize and get rid of the caffeine present in your bloodstream as quickly as possible— or not! If your CYP1A2 is slow, the caffeine present in the coffee will remain in your bloodstream for much longer.
Your genetics play a role in how caffeine is metabolized in your body. 
The speed at which your body metabolizes caffeine affects how your coffee consumption will influence your health. If you metabolize caffeine quickly, you may have a decreased risk of heart disease with moderate consumption of coffee. Alternatively, if you metabolize caffeine slowly, this may actually cause an increased risk of heart disease— hence all the confusion! But, don't feel you need to test the metabolizing potential of your CYP1A2 gene. Researchers are only beginning to understand how our genes and coffee habits interact.
Coffee contains beneficial compounds
Although the nutrition label is rather lacking for a cup of coffee— 8oz contains 1 calorie and 95 mg of caffeine— there is more to a coffee bean than meets the eye! There are over 1,000 natural compounds in a coffee bean.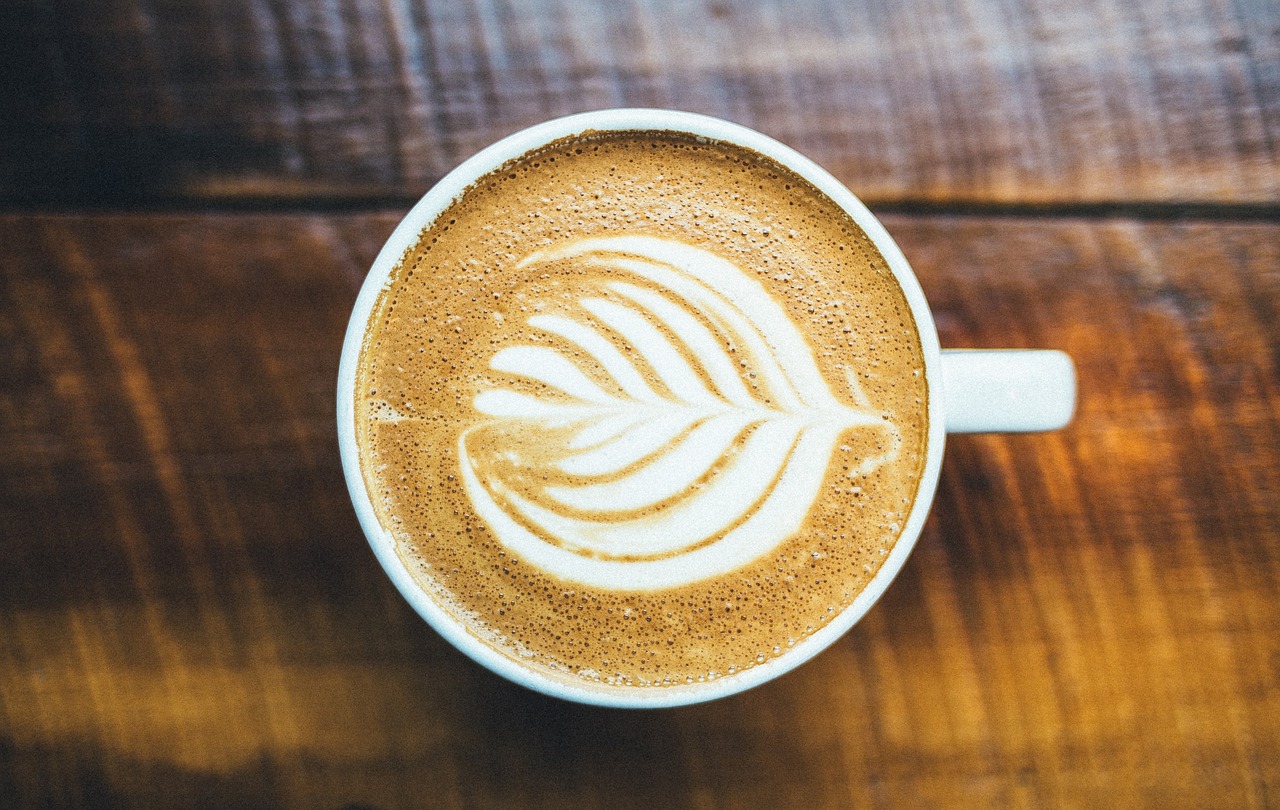 There are over 1,000 natural compounds in a coffee bean. Image: Pixabay
Additionally, according to the National Coffee Association, the roasting process creates another 300 beneficial natural compounds which can be beneficial to your health and assist in cell metabolism. They include vitamins B3, B5, and B12 as well as amino acids and citric, acetic, and malic acids. The European Food Research and Technology Journal has also reported that the volatile organic compounds (VOC) created during the roasting process have shown a maximum concentration at a medium roast level.
The various healthy compounds present in coffee include diterpenes and antioxidants. Research has indicated that diterpene can demonstrate the qualities of a therapeutic agent for cardiovascular disease. Diterpenes contain anti-inflammatory, antimicrobial and antispasmodic properties. Antioxidants have been known for their anti-inflammatory properties and have demonstrated the ability to fight free radicals. (For the full rundown on antioxidants click here.)
How does coffee affect your brain?
While there is still a lot to learn about your brain and its relationship to caffeine, there is some preliminary research that shows your brain can work more efficiently with a caffeine jolt. To put it simply, your brain naturally produces a compound called adenosine, which helps regulate blood flow to different organs. Caffeine can disrupt the relationship between adenosine and your brain, effectively blocking adenosine from your brain receptors. The effect of this is that your brain is not being "told" to relax. This is why you may feel wired after your cup of coffee.
One study also believes caffeine consumption may help with your memory consolidation.
Where does the science come out on coffee?
In 2015, the U.S. Dietary Guidelines decided to include coffee in its recommendations. The organization concluded that moderate consumption of coffee, 3-5 cups a day or up to 400 milligrams of caffeine, could be incorporated into a healthy lifestyle. The benefits of the abundant, naturally occurring compounds in coffee include a lower incidence of cardiovascular disease, diabetes, and muscle spasms.
In November 2017, the British Medical Journal published a comprehensive meta-analysis on coffee, which concluded that coffee appears safe within an intake of 3-4 cups a day, but that more research is needed.
"Coffee consumption seems generally safe within usual levels of intake, with summary estimates indicating largest risk reduction for various health outcomes at three to four cups a day, and more likely to benefit health than harm. Robust randomized controlled trials are needed to understand whether the observed associations are causal. Importantly, outside of pregnancy, existing evidence suggests that coffee could be tested as an intervention without a significant risk of causing harm. Women at increased risk of fracture should possibly be excluded." – British Medical Journal
The Bottom Line:
In conclusion, there is still a lot to learn about the health benefits of coffee. Scientists are still exploring how the compounds found in coffee are effective inside the human body. Listen to your body when you are drinking coffee. If you find it makes you feel more productive and you are not experiencing any anxiety, enjoy a cup or two every day.