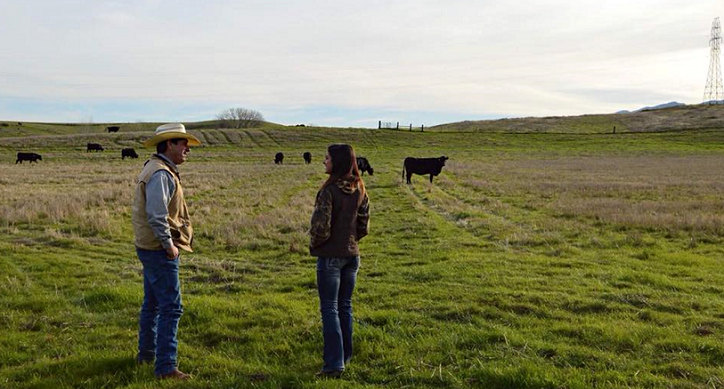 The Future Farmers of America (FFA) is the premier youth organization preparing members for leadership and careers in the science, business and technology of agriculture. In an effort to spread the word about the inspiring efforts of leading FFA members, Dirt to Dinner will be highlighting some participant stories.
We would like to introduce Lauren LaGrande. Her education in ag started on her family farm and has taken her back to the classroom. Her mission is to educate future generations on something that connects all of us – where our food comes from. Here is her story told from her unique point of view.
My name is Lauren LaGrande and I am a proud fourth-generation farmer from Northern California. My family grows mostly rice, almonds, and walnuts, along with a few row crops we keep on rotation. My younger brother and I also manage a small herd of cattle between us, which has helped fund us through college.
A passion for agriculture was instilled in me at a young age and was ignited further throughout my college years. My earliest memories stem back to sitting on my dad's lap in the harvester, watching the tines on the reel gobble up rice. I grew up participating in 4-H and the FFA, which are two experiences I will always be grateful for. In high school for FFA, I showed livestock, competed in agricultural communications proficiency contests, job interview contests, and project competitions.
A new lens on the industry
While all this was going on, I was asked to blog for a commodity group, as they wanted a younger generation's take on agriculture, which was where my passion for connecting people with their food sprouted. This passion took deeper roots during my time at Oregon State University, where I majored in agricultural sciences with minors in leadership, writing, and communications. I interned with commodity groups, animal agriculture alliances, conservation groups, and spent some time lobbying in Washington D.C. with a cooperative we are involved in, all of which expanded my views and perspectives on agriculture. My once narrow "production" lens of agriculture was now broadened to see the industry from a societal, regulatory, cultural, and legislative lens.
This new "ag lens" continued to expand through my college courses where I learned to appreciate agriculture beyond a production standpoint and appreciate its societal, economic, and environmental contributions. And today, I feel the same passion when I am able to help a student develop or deepen their appreciation and respect for an industry that not only feeds and clothes their hometown, their state, their country, but also the world.
I continued on to graduate school where I received my master's degree in agricultural communications from Texas Tech University (Wreck 'Em Tech!) and conducted research on consumer trust in the agriculture industry. I now teach agricultural communications courses at Oregon State University and am currently helping to develop a program in this concentration..
I remember getting my undergraduate degree here at Oregon State and wishing they had an agricultural communications program. I wished I knew how to talk about an industry I was so deeply rooted in to those who knew nothing about it. I am so ecstatic that Oregon State is in the works of developing an agricultural communications program. This will serve as a curriculum that I hope all students, whether within the agriculture, forestry, and natural resources fields or not, can benefit from. No matter your diet, food production preferences, or lifestyle choices, we all eat. Therefore we are all connected by agriculture.
Challenges in the education space
Many personal and professional experiences have revealed to me how little the public knows about where their food comes from, how it's managed, and who is producing it. This lack of understanding fuels my burning desire to connect people with their food. I am very humbled and blessed to be back at my alma mater and to have the chance to help students find their agricultural voice and to help those without an agriculture background understand some of our practices.
I think one of the most significant challenges I face as a teacher and as an agriculturalist is the public's mistrust in agriculture. Consumers not only vote on production regulations in the voting booths, but with their dollars every time they visit a grocery store, without really knowing what they are standing behind. My master's thesis research revealed to me that agriculture doesn't have a "reputation issue" per se, but it has a trust issue.
Today's consumers do not trust the agriculture industry. They are constantly bombarded with news stories and articles saying how "big ag" is pumping their foods with chemicals and destroying the environment, which are misconceptions we as an industry need to address and debunk. Agriculture has a great story to tell and we, as its authors, need to use our voices to help educate.
Overcoming obstacles through teaching
One of my biggest successes in this role thus far came from an email I received from a student who didn't come from an agriculture background. She explained she took my class not knowing what agriculture really consisted of and wanted to learn more behind the "scary" articles that get blasted all over the internet. She thanked me for helping her understand agriculture, a subject that affects all of us every day.
In one of the classes I teach, students are required to do a feature story regarding an aspect of the industry of their choice. They're also required to conduct two interviews that would add depth and credibility to the story. This assignment allowed this particular student to talk with farmers about her concerns and research her agricultural topic from both sides of the issue to come to an informed opinion. She fell so in love with her topic that she decided to pursue an internship in that same agriculture area. Although this was just one instance and just one student, I am so proud that I was able to play a small part in allowing someone who knew nothing about agriculture become passionate and informed.
Agriculture is more than just an industry; it is a lifestyle and way of life for so many. One that stems from hard work, passion, humility, craft, science, and community. It is my hope that down the road in the future, agriculture is known and trusted for all of these components and more.
A few tips on getting involved in ag
Want to know more about ag? Ask questions and make connections! Reach out to your county's co-op extension office if you have a question about something you saw on your drive home, like an airplane flying on seed or if you want to know how to plant cherry tomatoes in your backyard.
Farmers are some of the friendliest and most passionate people I know. Talk to your local grower at your farmer's market and ask questions about how they are growing the food you are taking home. Can't get your "boots on the ground"? That is okay! Luckily, today's world allows us to make connections online and globally. Reach out to agricultural professionals and organizations through their websites and social media pages.
Interested in learning directly more about agriculture? Sign up for an agricultural course or class, whether it's at the high school or college level or joining a program such as Master Gardeners through a local co-op.
Have a giving heart? Volunteer with your local Community Supported Agriculture project, FFA chapter, community garden, extension office, etc. Get your hands in the soil and work with those who cherish the land and you'll harvest more than just vegetables.
There are so many ways to get involved in the ag space; simply reach out and you'll have roots planted in agriculture in no time!
Stay tuned for more Future Farmers of America stories like this. If you would like to get involved with FFA, visit www.ffa.org. If you're a fellow FFA and want to share your story, or tell us more about an inspiring FFA member, please email us at [email protected] – we'd love to hear your stories!